What is TRELIS?
TRELIS (Training and Retaining Leaders in STEM - Geospatial Sciences) was a program funded by NSF Award #1660400 to support early career women in geospatial sciences. The grant funded workshops to bring together a small group of early career and established scholars to discuss and learn from each other around our shared (and unique!) challenges and opportunities. The initial grant award period has now ended, but the conversations and materials generated by the project are something we want to make publicly available through this online toolkit.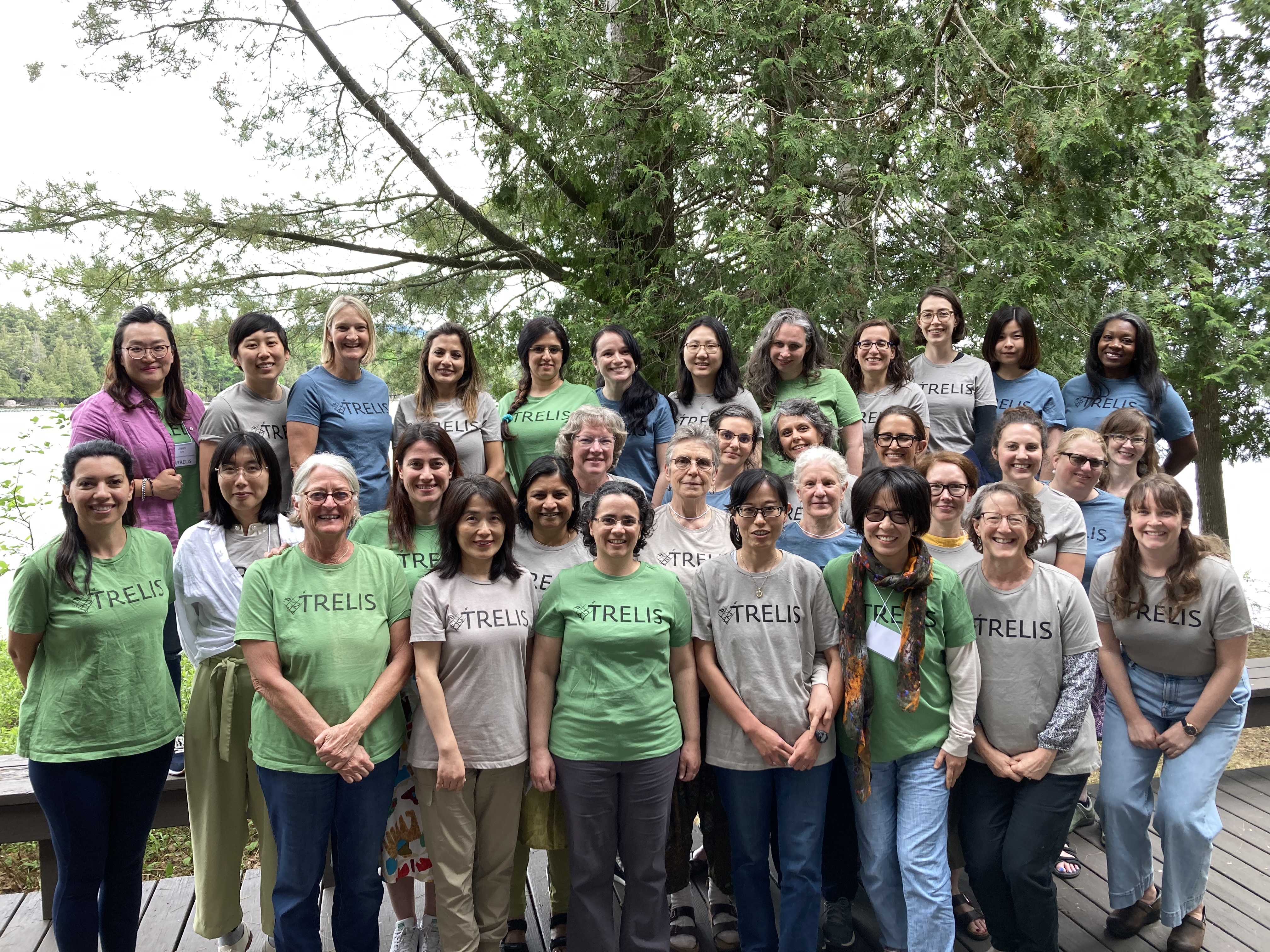 TRELIS participants from across the cohorts meet in upstate New York in 2022.
Want to run your own meeting, workshop, or work through the TRELIS materials on your own? Below is a sample schedule of a 2-day workshop. The "PROJECTS" page includes examples of how the TRELIS curriculum has been adapted, expanded, and used.
Day by Day Workshop Schedule
Day One
| Time | Session & Activities | Resource Link |
| --- | --- | --- |
| 7:30am | Breakfast available |   |
| 8:30am | Welcome, Introduction & Orientation |   |
| 10:00am | Break |   |
| 10:30am | Session 1: Communication and Language | Overview & Materials |
| 12:00pm | Lunch and Walk Break |   |
| 1:30pm | Session 2: Career Trajectories | Overview & Materials |
| 2:50pm | Break |   |
| 3:00pm | Session 3: Obstacles & Solutions (Part 1) | Overview & Materials |
| 4:30pm | Compilation of Parking Lot (or Bike Rack) Topics | Overview & Materials |
| 5:00pm | Free Time |   |
| 6:30pm | Dinner |   |
Day Two
| Time | Session & Activities | Resources |
| --- | --- | --- |
| 7:30am | Breakfast available |   |
| 8:30am | Greetings & Debrief |   |
| 9:00am | Session 3: Obstacles & Solutions (Part 2) | Overview & Materials |
| 10:00am | Break |   |
| 10:30am | Session 4: Work-Life Integration | Overview & Materials |
| 12:00pm | Lunch and Walk Break |   |
| 1:30pm | Session 5: Mentoring and Coaching | Overview & Materials |
| 2:30pm | Discussion of Parking Lot (or Bike Rack) Topics | Overview & Materials |
| 3:50pm | Break |   |
| 5:00pm | Free Time |   |
| 7:00pm | Dinner |   |
Leadership
The TRELIS leadership team includes:
Kate Beard-Tisdale, University of Maine (PI)
Laxmi Ramasubramanian, San Jose State University (co-PI)
Diana Sinton, UCGIS (co-PI)
Sarah Battersby, Tableau Software
Barbara Buttenfield, University of Colorado
Karen Kemp, University of Southern California
Elizabeth Wentz, Arizona State University
Stacy Doore, University of Maine (evaluator)